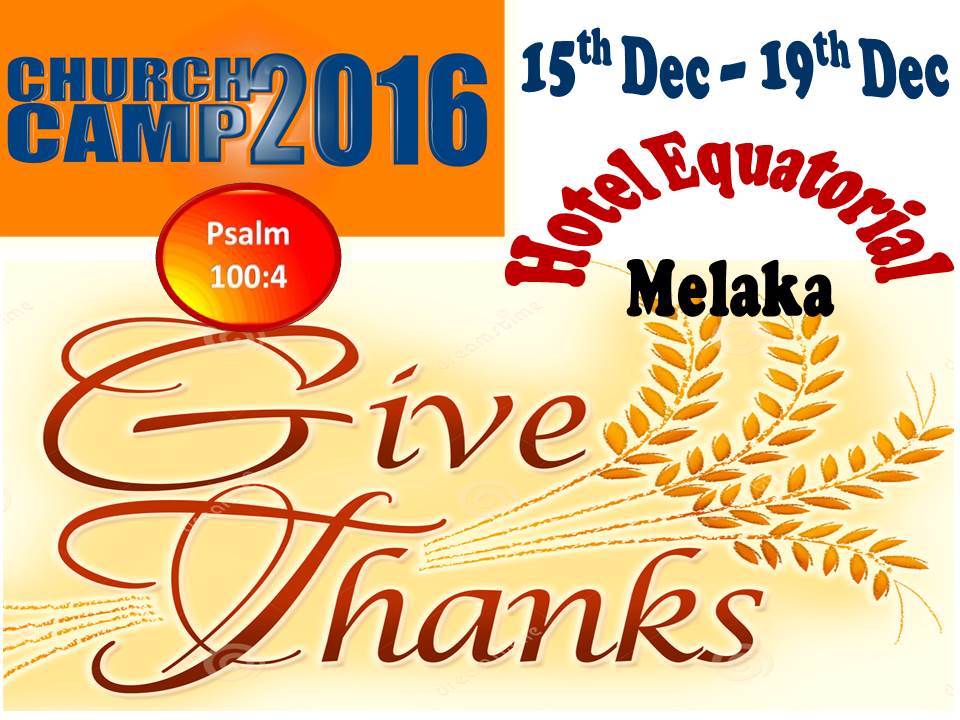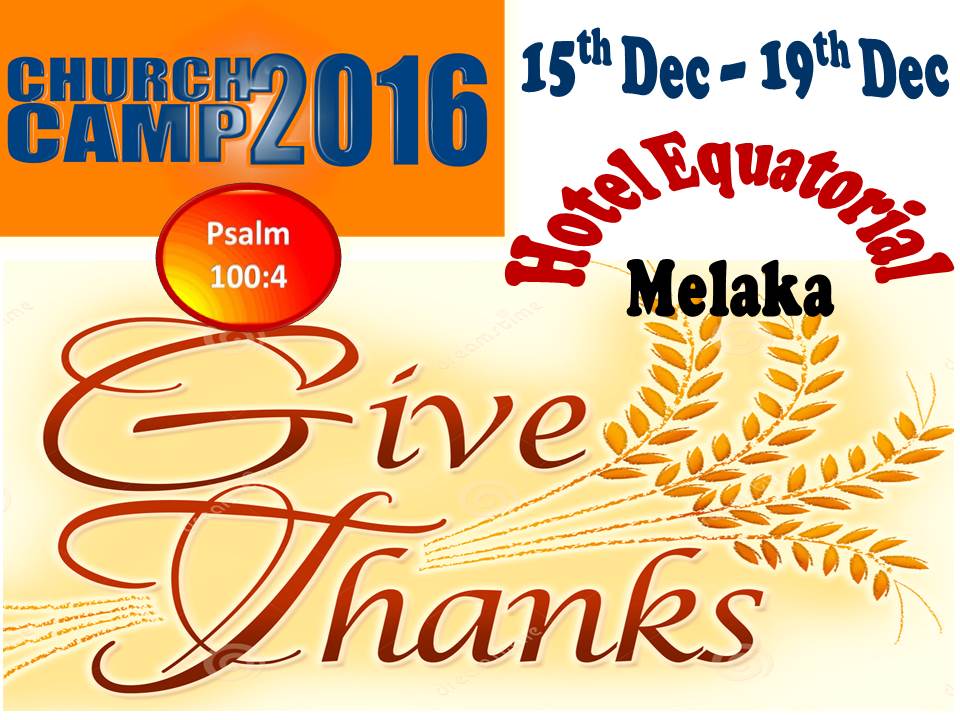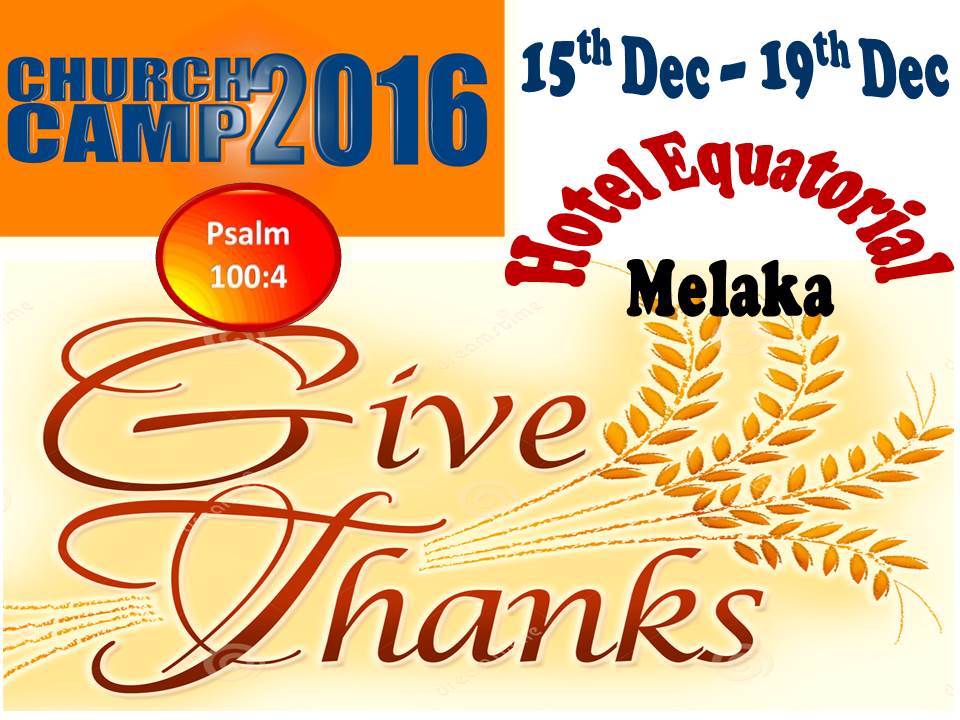 Date: 15th to 19th December 2016
Venue: Hotel Equatorial Melaka
The People's Church heads to Melaka for our 2016 church camp and this year's theme is 'Give Thanks'. Come join us for a blessed and spirit-filled time as we end the year on a high. Charge yourselves up and bond together as a church to prepare ourselves for 2017!
Registration:

Open registration is currently closed. However, if you are interested to join us for this camp or want to invite your friends or family, kindly drop us an email at general_office@thepeopleschurch.sg or contact us here. Seats are on a first come, first served basis and we do not promise availability of slots. Please get in touch with us by 30th November 2016.
Camp Speaker: Pastor Guna
Pastor Guna received Jesus Christ as his Lord and personal Savior in October 1981 and was called to full time ministry in 1983. At the time of his conversion, he surrendered his life and struggles to Jesus and was completely set free from drug and alcohol addiction and from satanic oppression. His life was amazingly transformed by the miraculous power of Jesus Christ, and he began to boldly preach and testify about the saving, healing and delivering power of Jesus.
After attending Bible school in Singapore, he became a pastor and served at his local church in Singapore until 1993. In 1993, God called him to serve in Okinawa, Japan. He and his family served as missionaries in Okinawa, Japan for 3 years, and in 1996, he was called to Tokyo, Japan. Since then Pastor Guna and his wife Jey have been faithfully serving as senior pastors of Victory Christian Center Japan. They have outreach churches in Nagoya and Narita and also do missions work in East Timor and Davao City, Philippines. They firmly believe God has called them to Japan, and their ministry is validated by the life -changing experiences of many individuals in Japan.
They have two children Chris and Abby. Chris lives in Singapore with his wife Cathy and their son Zakk. Their daughter Abby lives in Springfield, Missouri with her husband Zach.
Camp Mandarin Interpreter: Reverend Susan Quek-Seow
Susan Quek-Seow is an ordained minister with the Assemblies of God. She holds a Master in Theological Studies (MTS) and is presently a candidate for Doctor of Ministry Program in Singapore Bible College.
She served God as a marketplace minister until 1998 when she answered her full-time call and joined Elim Church as a missionary in training.
Susan served alongside Dr Margaret Seaward as a soul care pastor in ministering to the emotionally afflicted and distressed. She was also a family life counsellor.
She preaches in English, Mandarin, Hokkien and Cantonese in interdenominational churches.  She also taught in Tung Ling Bible School (SOM Chinese Program) and Holy Grace Bible School.
In 2008, she obeyed the Holy Spirit's to minister to the Body of Christ both locally and globally. She preached and taught in USA, Canada, Europe, Australia, China and South-East Asia
She started the Torchbearer Ministries in accordance to the mandate God has given her to bring the fire of the Holy Spirit to set hearts aflame so that they can arise and shine for Jesus.
Camp Sunday School Teachers: Pastor Maggie Krishnan & Sis Carene Krishnan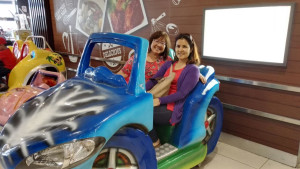 Pastor Maggie Krishnan is from Calvary Life Assembly, Melaka. She has been involved in Children's Ministry for many years, and has an ever-growing passion for children to be raised up in a godly way. God has anointed her to bring forth Gospel truths to children in creative and fresh ways.
Carene Krishnan is also from the same church and shares the same passion as her mum. It is their joy to be part of People's Church Camp 2016, and are looking forward to the camp.